Browsing articles from "February, 2011"
The South Carolina Academy of Authors (SCAA) is pleased to announce the 2011 inductees, who will be celebrated on March 18, in Aiken, SC.
The Washington Post has called Percival Everett "one of the most adventurously experimental of modern American novelists." To date, he has written 22 books, including 17 novels, 3 short story collections, and 2 volumes of poetry. Some critics have called Everett's fiction "genre-ambidextrous" because of its sheer variety in both subject matter and form, including his retelling of Greek myth (For Her Dark Skin, 1990), his exploring the limits of absurdist narrative (American Desert, 2004) and his reinventing the Western (God's Country, 1994 and Wounded, 2005).
Everett grew up in Columbia, but for years, he has made California his home. He is currently a Distinguished Professor of English at the "Other USC," the University of Southern California in Los Angeles.
With the 2002 publication of her first novel The Secret Life of Bees, Sue Monk Kidd took up residence on the best seller lists. Although she had already carved for herself an enviable reputation as a memoirist with such books as When the Heart Waits (1990) and The Dance of the Dissident Daughter (1996), her venture into fiction firmly established her literary credentials.
Following the success of The Secret Life of Bees, which is now widely taught in high school and college classrooms, Kidd published The Mermaid Chair (2005) and Traveling with Pomegranates (2009), a dual memoir with her daughter Ann Kidd Taylor.
A Georgia native, Kidd currently lives on the Gulf Coast of Florida, but Charleston serves as the backdrop of her next book, a historical novel set in the nineteenth century.
Gamel Woolsey (1895-1968) left her native South Carolina to pursue a career as an actress in New York City.  A series of turbulent love affairs, however, brought her eventually to England and Spain, where she established herself as a poet, novelist, and memoirist.  Her verse collection entitled Middle Earth (1931) was inspired, in part, by her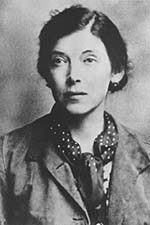 long-standing extramarital relationship with British novelist Llewellyn Powys.  Due to its candid treatment of sexuality, her novel One Way of Love was published posthumously in 1987.  Malaga Burning, her memoir of the Spanish Civil War, written while she shared a life with journalist Gerald Brennan, was published in its first American edition by Pythia Press in 1998.
Woolsey's birthplace, Breeze Hill Plantation, just outside of Aiken, is still owned by members of the family.
The SCAA encourages academic and public libraries statewide to promote reading through highlighting the works of the 2011 SCAA Inductees: Percival Everett, Sue Monk Kidd, and Gamel Woolsey.  The SCAA encourages libraries to display the works of these noted authors during the month of March to celebrate their achievements.
The SCAA will be hosting its annual induction ceremony in Aiken. During this gala ceremony, Sue Monk Kidd, Percival Everett, and the late Gamel Woolsey will be inducted in the state's literary hall of fame.  Advance reservations for this event can be made by sending a check for $35 per person (payable to the SC Academy of Authors) to Dr. Tom Mack, English Department, USCA, Aiken, SC 29801.   For more information, contact Dr. Mack at tomm@usca.edu or visit www.scacademyofauthors.org.
On behalf of the South Carolina Association of School Librarians and the South Carolina Book Award Program, we are pleased to announce the nominees for the 2011-2012 Picture, Children's, Junior, and Young Adult Book Awards.
Picture Book Award Nominees
14 Cows for America by Carmen Agra Deedy
About Penguins: A Guide for Children by Cathryn P. Sill
All the World by Elizabeth Garton Scanlon
Back of the Bus by Aaron Reynolds
Bridget's Beret by Tom Lichtenheld
Frankie Works the Night Shift by Lisa Westberg Peters
The Hair of Zoe Fleefenbacher Goes to School by Laurie Halse Anderson
The Hallelujah Flight by Phil Bildner
Hot Rod Hamster! by Cynthia Lord
Jackson & Bud's Bumpy Ride by Elizabeth Koehler-Pentacoff
Let's Do Nothing! by Tony Fucile
LMNO Peas by Keith Baker
Miss Brooks Loves Books (and I Don't) by Barbara Bottner
My Garden by Kevin Henkes
Panda Kindergarten by Joanne Ryder
Ready for Anything! by Keiko Kasza
Sophie Peterman Tells the Truth! by Sarah Weeks
Testing the Ice: A True Story About Jackie Robinson by Sharon Robinson
Under the Snow by Melissa Stewart
We're All in the Same Boat by Zachary Shapiro
Children's Book Award Nominees
11 Birthdays by Wendy Mass
Bad News for Outlaws: The Remarkable Life of Bass Reeves, Deputy US Marshal by Vaunda Micheaux Nelson
Captain Nobody by Dean Pitchford
The Case of the Case of Mistaken Identity by Mac Barnett
The Christmas Genie by Dan Gutman
Everything for a Dog by Ann M. Martin
Extra Credit by Andrew Clements
January's Sparrow by Patricia Polacco
Justin Case: School, Drool and Other Daily Disasters by Rachel Vail
Letters to a Soldier by David Falvey
Love, Aubrey by Suzanne LaFleur
The Mostly True Adventures of Homer P. Figg by Rodman Philbrick
Neil Armstrong Is My Uncle and Other Lies Muscle Man McGinty Told Me by Nan Marino
Out of My Mind by Sharon Draper
The Red Pyramid by Rick Riordan
The Small Adventures of Popeye and Elvis by Barbara O'Connor
Tango: The Tale of an Island Dog by Eileen Beha
Touchdown Trouble by Fred Bowen
We Can't All Be Rattlesnakes by Patrick Jennings
Wild River by P.J. Petersen
Junior Book Award Nominees
All the Broken Pieces: A Novel in Verse by Ann E. Burg
Also Known As Harper by Ann Haywood Leal
Anything But Typical by Nora Raleigh Baskin
Bystander by James Preller
Callie's Rules by Naomi Flink Zucker
The Demon King by Cinda Williams Chima
Faith, Hope and Ivy June by Phyllis Reynolds Naylor
Heart of a Shepherd by Rosanne Parry
If the Witness Lied by Caroline B. Cooney
The Indigo Notebook by Laura Resau
Leviathan by Scott Westerfeld
Lifting the Sky by Mackie D'Arge
Marching for Freedom by Elizabeth Partridge
Mission Control, This Is Apollo by Andrew Chaikin
Operation Redwood by Susannah T. French
The Potato Chip Puzzles by Eric Berlin
Skeleton Creek by Patrick Carman
Slob by Ellen Potter
A Taste for Red by Lewis Harris
War Games: A Novel Based on a True Story by Audrey Couloumbis
Young Adult Book Award Nominees
Angry Management by Chris Crutcher
Before I Fall by Lauren Oliver
Brutal by Michael B. Harmon
The Chosen One by Carol Lynch Williams
Diary of a Witness by Carol Ryan Hyde
Dirty Little Secrets by Cynthia Jaynes Omololu
The Ghosts of War: The True Story of a 19-Year-Old GI by Ryan Smithson
Girl in the Arena by Lise Haines
Gray Baby: A Novel by Scott Loring Sanders
Hate List by Jennifer Brown
Hold Still by Nina LaCour
Into the Wild Nerd Yonder by Julie Halpern
King of the Screwups by K.L. Going
Leviathan by Scott Westerfeld
Muchacho: A Novel by LouAnne Johnson
Once a Witch by Carolyn MacCullough
Purple Heart by Patricia McCormick
Rock 'n' Roll Soldier: A Memoir by Dean Ellis Kohler
Shiver by Maggie Stiefvater
Unsigned Hype: A Novel by Booker T. Mattison
The purposes of the South Carolina book awards are to encourage our students to read good quality contemporary literature and to honor the authors of the books annually chosen the favorites by student vote. The book award medals will be awarded to the winning authors the following year at the annual conference of the South Carolina Association of School Librarians.
If you have any questions or would like more information about this program, please contact Jennifer Kauffman or Kelly Knight, South Carolina Book Award Program Co-Chairs.
Jennifer Kauffman
Kelly Knight
Monaview Elementary School
Fork Shoals School
10 Monaview St.

Greenville, SC  29617

916 McKelvey Rd.

Pelzer, SC  29669

(864) 355-4300
(864) 355-5005
jkauffma@greenville.k12.sc.us
klknight@greenville.k12.sc.us
Plans are in place for USC Union to partner with Friends of the Library and the Union County Arts Council in the coming months to provide a cultural first for Union.
The university will host a two-day literary festival featuring well-known writers from a variety of genres. The guest writers will speak, read and perform, as well as spend time meeting, greeting and signing autographs for festival goers.
"This is the first time something like this has been done here at the university," said event coordinator Randy Ivey.
The event — slated for March 11-12 — will take place during USC Union spring break, which will allow for more parking during the festival. Admission to the festival will be free and open to the public.
Read the full article at the Union Daily Times.