Browsing articles from "October, 2012"
For those looking to get in a "bind", the book festival held annually at Francis Marion University is the place to be. Four nationally known and bestselling authors and poets, and their avid readers, will descend upon the university Nov. 8 and 9 at the Pee Dee Fiction and Poetry Festival, which is free and open to the public.
The two-day festival will celebrate and promote literature and reading with renowned authors Larry Watson, Nikky Finney, Danielle Evans, and Todd Boss. There will be readings, lectures, and panel discussions. A number of fiction topics will be covered and there will be opportunities for book signings.  For more information, visit http://peedeefiction.org/.
by Taylor Cheney
Melinda Long's How I Became A Pirate follows a young boy on his spontaneous quest to become a  reckless buccaneer, chart the seven seas, and learn that all that is gold does not always glitter.
On a seemingly average day at the beach, Long's curious narrator spots a pirate ship advancing towards him while his busy parents are off attending to parent-y tasks. The young boy, Jeremy Jacobs, is taken captive and hops aboard the swashbuckling ship, quickly making friends with Captain Braid Brew and his heedless crew. Immediately Jeremy is cast away into a dream land treasured with sea chanteys and fun – totally void of all boring, grown up responsibilities because "nobody tells pirates to go to bed, to take a bath, or to brush their teeth (maybe that's why their teeth are so green)." Jeremy even attempts to teach the crew how to play soccer but being at sea poses obvious difficulties.
Every page is adorned with an enormous amount of colorful animation – so much so that the illustrator and the author successfully make the characters and the words simultaneously jump off the page. Short, emphatic phrases such as "Down the hatch!" and "Aargh! Soccer!" are consistently brought to our attention throughout the story, emphasizing the inebriated caroling commonly associated with pirates lost at sea.
Eventually our narrator learns that not having to change into pajamas is only cool for a little while and begins to miss  - dare he say it? – his family. When the gallant crew is underway during a heavy rainstorm, clever Jacob takes it upon himself to steer the group in another direction – his backyard. His plan is achieved and Jacob even makes it in time for soccer practice.
Currently living in Greenville, SC, Long creatively captures the all too familiar feeling of not realizing how good you have something until it's gone. The lovable Jeremy Jacobs has the ability to remind the reader of a time when the world seemed huge and the only option was to sail away and see it all for yourself…but at the end of the day, a good bedtime story and a warm bed is just as nice.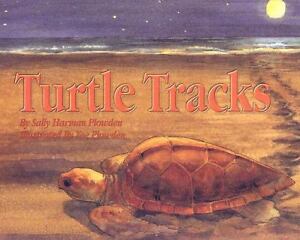 By Taylor Cheney
Even if you don't live by the coastline, natives of South Carolina understand how  turtles are a trademark to the state's beaches and how important it is to provide a safe habitat for them to grow in.
In Sally Harman Plowden's Turtle Tracks, the youthful narrator takes her yearly summer adventure to her aunt's beach house where she spends her time leisurely swaying on hammocks, and curiously soaking up the flora and fauna of, based on the illustrations, what seems like Folly Beach.
A graduate from the University of South Carolina, Plowden creates an independently-minded young girl who finds a newly hatched turtle family and to her surprise, discovers a replication of her own brothers and sisters in them. The young girl joins a group gathered on the beach who are seeking to help the hatchlings get to the water safely.
The narrator becomes fascinated when she learns that turtles return to the same spot in which they were born to lay their own eggs. She thinks of how her own family returns to the same beach house every year, but "there are roads, signs, and people along the way to offer directions. For turtles, the sand itself is a trail that she cannot see, smell, or feel."
This 28-paged story offers a fantastic read for any young, inquisitive mind interested in sea life and conservation. It also includes a list of detailed facts about Loggerhead turtles and what we can do to protect them. The detailed illustrations create a realistic view of the picturesque landscape and makes any reader feel as though they can feel the sand beneath their own toes and take in the salty smell of the ocean.
Janna McMahan to present in Speaker @ the Center series Nov. 15
Columbia author Janna McMahan will introduce the new book Literary Dogs & Their South Carolina Writers Thursday, Nov. 15 from noon to 1 p.m. as part of the State Library's Speaker @ the Center series. McMahan, one of the writers featured in the new book, will read her essay, "A Name You Can Yell."
In Literary Dogs & Their South Carolina Writers (Hub City Press, 2012) twenty-five of the Palmetto State's most beloved authors introduce you to their most memorable dogs. There is Padgett Powell's "Ode to Spode," Josephine Humphreys' paean to a poodle, and Roger Pinckney's Daufuskie Dog-ageddon. Meet Marshall Chapman's Impy, Mindy Friddle's Otto, Beth Webb Hart's Bo Peep, and more. From bird dogs to bad dogs, wild dogs to café dogs, get to know these canines and their literary companions.
The bag-lunch series is sponsored by the State Library's Center for the Book. McMahan is the national best-selling author of the novels Calling Home, The Ocean Inside and Decoration.
Copies of Literary Dogs & Their South Carolina Writers will be for sale at this event.
The book, edited by John Lane and Betsy Teter of Spartanburg, is funded by the National Endowment for the Arts. It sells for $19.95 at bookstores and online. Other authors featured include: Elise Blackwell, Christopher Dickey, Lou Dishler, Andrew Geyer, Dot Jackson, Dinah Johnson, Drew Lanham, Melinda Long, Kate Salley Palmer, Mark Powell, and Glenis Redmond.
Founded in Spartanburg in 1995, Hub City Press is an ambitious independent publisher that won four IPPY Awards in 2012. It has published more than 60 titles with books recently published or forthcoming by Ron Rash, John Lane, Kwame Dawes, Susan Tekulve and others. Hub City is committed to well-crafted and high-quality works by new and established authors, with an emphasis on the Southern experience.
For more information, contact Betsy Teter at (864) 577-9349 or info@hubcity.com.
Information Literacy is defined as the ability to know when there is a need for information, to be able to identify, locate, evaluate, and effectively use that information for the issue or problem at hand.
Empowering individuals across the state to seek, interpret, and use reliable and accurate information is of great importance to our future.  James Madison, our 4th president and Father of the U.S. Constitution, once said "A popular Government without popular information, or the means of acquiring it, is but a prologue to a farce or a tragedy; or, perhaps both. Knowledge will forever govern ignorance…."
This month has been proclaimed by South Carolina's Governor Nikki R. Haley as Information Literacy Month.  Information Literacy Month "raises awareness of the importance of information literacy for economic prosperity, social cohesion, the success of the democratic process, educational opportunity, and an enhanced quality of life."
For more information about information literacy month, visit the National Forum on Information Literacy at www.infolit.org.  You can also view the Governor's proclamation at http://ow.ly/ep9lm.
by Taylor Cheney
For any child who has difficulty following directions or just simply takes things a bit to literally, a friend they will find in Amelia Bedelia.
In the 'Amelia Bedelia' series, Author Peggy Parish, a native of Manning, South Carolina, creates the always lovable, yet embarrassingly simple-minded Amelia Bedelia while young readers follow her day-to-day adventures as a housemaid. In Good Work, Amelia Bedelia, Amelia once again finds herself in a state of confusion when the Rogers family give her an extensive chore list to complete while they are out.  Her tasks include baking a spongecake (you can imagine what happens here), potting the window plants (oh, dear), and patching the front door screen (it gets better).
Illustrated in a proper maid outfit, complete with a frilly bonnet rimmed with daisies, the endearing Redhead often comes to the realization that what she is doing can not be right ("I don't think Mr. Rogers will like this cake") but instead decides to void all rationality and do what she is told, like the loyal housekeeper she is.
When the Rogers return from their day out, you can imagine their distress to see their plants in actual  pots, their screen door covered in actual  patches, and when they bite into their "cake," well, you get the idea. Nevertheless,  Amelia is redeemed for her misunderstandings when she surprises the Rogers with a butterscotch cake she just happened to whip up (when she had time to do this is not mentioned) and all is settled in the end.
The protagonist's sunny disposition while performing outlandish tasks, though understanding, make her an undeniably relatable character and a testament as to why Parish's stories have survived on the bookshelves of  generations for so long. I think her character teaches children the value of learning things on your own, having the courage to be wrong sometimes, and the importance of imagination – so long as you know how to make a great butterscotch cake.
Gamel Woolsey's Patterns on the Sand (Sundial Press) is a richly sensuous work imbued with a deep nostalgia for the South Carolina homeland of her youth. Set in Charleston and the Low Country, this haunting tale of youthful love and youthful death revolves around the vague yearnings and sexual awakening of Sara Warren, an outsider in the privileged Old South world of her friend Elizabeth Gordon and brothers William and Rush. As the First World War rages in Europe, it is the aftermath of an earlier conflict closer to home that is still most keenly felt, in the depiction of social and moral convention and the acceptance of racial distinction. Into this beautifully evocative story Woolsey also skillfully weaves a mystery of murder, and unexpected affections.
Gamel Woolsey, poet and novelist, was born in Aiken, South Carolina. Her distinguished family included presidents of Yale and Johns Hopkins universities, while Susan Coolidge, author of What Katy Did, was her aunt, and her half-brother John M. Woolsey the judge who ruled that Joyce's Ulysses was not obscene. In her early twenties she moved to New York to pursue her artistic ambitions. She married Reginald Hunter, a journalist, in 1923 but they separated a few years later. She then met the writer Llewelyn Powys and his wife Alyse Gregory, the start of an extraordinary triangular relationship that continued after Powys had returned to Dorset in his native England. Gamel followed in 1929, but the strength of passions among all three often proved traumatic, and she soon threw in her lot with the writer Gerald Brenan, moving to Spain in the early 1930s and escaping back to England when the Spanish Civil War broke out. In 1952 they returned to Spain, where Gamel died in early 1968. She is buried in the English cemetery at Málaga.
Only a few of Woolsey's works were published in her lifetime, among them a collection of poems, Middle Earth (1931), and a haunting memoir of the Spanish Civil War, Death's Other Kingdom (1939). Her first novel, One Way of Love, based on her early marriage, was withdrawn by the publisher shortly before its scheduled appearance in 1932 for fear of prosecution over its purported sexual content. Patterns on the Sand, which she wrote in the 1940s, Gamel herself despondently withdrew after her initial attempt to find a publisher had failed. But in the early 1980s several volumes of her poems were published in the United Kingdom, as well as her letters to Llewelyn. One Way of Love finally appeared in 1987 and Death's Other Kingdom has been reissued several times (in the USA as Malaga Burning ~ her first work to appear in her own country). No tribute would have pleased Gamel Woolsey more than her induction in March 2011 into the South Carolina Academy of Authors. Now, with this first ever publication of Patterns on the Sand, her 'lost' novel at last sees the light of day and a new readership can discover this elegant and sensitive writer.
The South Carolina State Library's Center for the Book is pleased to welcome student intern and blogger, Taylor Cheney.  Taylor is a fourth-year English major from Mt. Pleasant, South Carolina. She will be writing about her thoughts on Children's and Young Adult books written by South Carolina authors.  She hopes of one day moving to San Francisco and adopting a bulldog.  And no, she is not related to Dick Cheney.  Please be on the lookout for Taylor's blog postings!
What:       Book Launch for  Sheridan Hough's acclaimed debut novel Mirror's Fathom
Where:      Charleston Library Society, 164 King Street  Charleston, SC 29401
When:       Thursday, November 8th  6PM – 8PM. Talk followed by book signing and reception.  Admission is Free.
Mirror's Fathom is the story of Tycho Wilhelm Lund—anarchist, pirate, and thief of a legendary mirror. Tycho a great-nephew of   Søren Kierkegaard  is asked to appraise the furniture once belonging to   Regine Schlegel, Kierkegaard's  jilted love.    Tycho, falls in love with Countess Juliana Sophie, the self-appointed mistress of the "School for Selves"  a group devoted to the study of Kierkegaard's writing.     Their marriage, is approved with one condition—Tycho must first go to London to retrieve a family heirloom, a 6-foot-tall silver-framed mirror.
Praise for Mirror's Fathom
"Mirror's Fathom is dazzlingly multifaceted. Read this novel for its perfectly framed plot of love, loss, and mystery. Read this novel for its fully fleshed characters. Read this novel for its philosophical questions on what it means to be a true individual entangled in geography and time. Read this novel for its poetry.   By God, just read it!" Ron Cooper author of Purple Jesus and Hume's Fork
"Sheridan Hough has written an elegant, beguiling, moving and extremely intelligent book with Mirror¹s Fathom. Part mystery and part love story, part history and part philosophy, this is a compelling and rewarding read." Brett Lott – author of Jewel and The Hunt Club
For information, review copies of interviews with Ms. Hough contact Peter  & Marjory Wentworth
(843) 994-1946, Petetwentworth@gmail.com
South Carolina was recently represented at the National Book Festival in Washington DC by Dr. Curtis R. Rogers, SC Center for the Book Coordinator, and Sandy Knowles, Director of the State Library's Talking Book Services (not pictured). It is estimated the SC table had over 1,300 visitors.  The SC Center for the Book was promoting the book, Virals, by Kathy Reichs. L-R: DC Junior League volunteer, Susan Hildreth, IMLS Director, and Rogers.