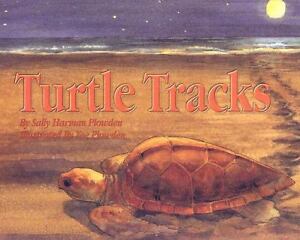 By Taylor Cheney
Even if you don't live by the coastline, natives of South Carolina understand how  turtles are a trademark to the state's beaches and how important it is to provide a safe habitat for them to grow in.
In Sally Harman Plowden's Turtle Tracks, the youthful narrator takes her yearly summer adventure to her aunt's beach house where she spends her time leisurely swaying on hammocks, and curiously soaking up the flora and fauna of, based on the illustrations, what seems like Folly Beach.
A graduate from the University of South Carolina, Plowden creates an independently-minded young girl who finds a newly hatched turtle family and to her surprise, discovers a replication of her own brothers and sisters in them. The young girl joins a group gathered on the beach who are seeking to help the hatchlings get to the water safely.
The narrator becomes fascinated when she learns that turtles return to the same spot in which they were born to lay their own eggs. She thinks of how her own family returns to the same beach house every year, but "there are roads, signs, and people along the way to offer directions. For turtles, the sand itself is a trail that she cannot see, smell, or feel."
This 28-paged story offers a fantastic read for any young, inquisitive mind interested in sea life and conservation. It also includes a list of detailed facts about Loggerhead turtles and what we can do to protect them. The detailed illustrations create a realistic view of the picturesque landscape and makes any reader feel as though they can feel the sand beneath their own toes and take in the salty smell of the ocean.