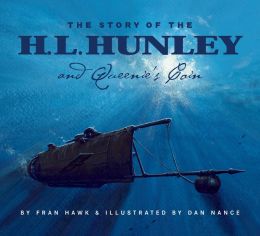 By Abby Davis
The Story of the H.L. Hunley and Queenie's Coin by Fran Hawk explores the mystery surrounding the first submarine to ever sink an enemy warship as well as George Dixon's lucky gold coin gifted to him by his love, Queenie Bennett.  The book closely follows the creation of the H.L. Hunley, its first tragic voyages, its mysterious disappearance, and ends with the long awaited resurrection of the submarine in August 2000.  The resurfacing of the Hunley is depicted as a joyful day in which 20,000 people at the Charleston Harbor welcomed the submarine back from the depths of the ocean where it was hidden for 136 years.
While the story mostly shares the mysteries of the Hunley, Dixon's lucky gold coin from Queenie is an important feature as well.  The coin had proven to be very lucky at the Battle of Shiloh where it saved Dixon's leg and ultimately his life.   The coin was in fact discovered in the excavation of the Hunley right where Lt. Dixon would have been sitting, but unfortunately it had not been lucky enough to save the Hunley and it's crew.
The story itself is riveting and educational, but the charm of this book lies in the beautiful illustrations by Dan Nance.  Nance is a noted Civil War artist and some of his works can be seen at the South Carolina State Museum.