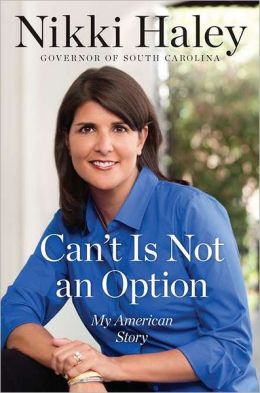 By Abby Davis
"When the daughter of Indian immigrants, who grew up in a small rural town in the segregated South, can become the first female and minority governor of her state and the youngest governor in the nation, then it's clear that the American Dream still exists."  This inspiring quote is one of Nikki Haley's final comments in her autobiography published last April, Can't Is Not an Option: My American Story.

Her story begins with her parents immigrating to North America and ultimately moving to the small town of Bamberg, South Carolina where she was born.  They were the only Indian family there and she explains that they faced many initial hardships when neither side of a segregated town would accept them, since they were neither white nor black.  Her story miraculously ends, however, with her describing her first 250 days as governor of this very same state.
Through her detailed accounts of all the unbelievable obstacles she encountered on her path to the governor's mansion, it becomes clear the only way she got there was by truly letting can't never be an option.  She spends plenty of time illustrating the policies and practices she believes in—which revolve around "limited, responsible, transparent government"—and we see the truth of these statements reflected through her work in the House and now as governor.
This book also, however, allows the audience to see not just Nikki Haley, Governor of South Carolina—but to see and understand Nikki.  She reveals Nikki the grateful boss; Nikki who got giddy about meeting Sarah Palin; Nikki who likes to "get excited"; Nikki who celebrates with the Black Eyed Peas' hit "I Gotta Feeling"; Nikki the caring mother; Nikki the loving wife; and Nikki who cares deeply about all South Carolinians.
Whether you support her political "Movement" or not, this book shares an incredible story that all South Carolinians can be proud of.  She frequently describes how incredibly proud she is of the progress that South Carolina has made and continues to make in overcoming bigoted, antiquated ideals of the past.  Nikki Haley herself is proof of the progress and her book does not just tell her triumphant story, but also tells a story of triumph for all of South Carolina.