Browsing articles from "March, 2013"
By Abby Davis
Vanna White became a household name for her looks, beautiful outfits, and impeccable letter turning capabilities.  However, after reading Vanna Speaks, it is clear that there is a lot more to this woman than what meets the eye while watching Wheel of Fortune.  Vanna grew up in North Myrtle Beach, and it is made evident throughout her book that she cherished her childhood there, and that she still considers it home.
Much of the book is spent illustrating her life in Los Angeles and her struggle to break into show business. The audience quickly learns that it was an arduous path filled with lots of small modeling jobs accompanied by waitressing jobs to pay the bills.  She was not simply cast as the hostess of Wheel of Fortune out of the blue as if it were a fairytale—and this is a point she seems to emphasize throughout the book.  Although she did ultimately have her dream come true, she had to work for it.
While she does tell of her glamorous lifestyle in Hollywood, much of the book actually takes place in North Myrtle Beach.  She writes about her junior high crushes and high school sweethearts, the diners that she worked at in the summers, the Sun Fun Festival that she competed in but never won, and much more.  Vanna makes it clear that North Myrtle Beach has always been very good to her.  The town even did a huge special release of her first film, Graduation Day, which included her name up on the marquee, and the newspaper proudly writing of their local movie star returning home.
Vanna does not hold back in this book at all, she shares very intimate stories from details of relationships and mistakes she has made to her mother's heartbreaking struggle with cancer and the tragic death of her serious boyfriend.  She also shares answers to lots of frequent questions from fan mail, details regarding Wheel of Fortune, and her own personal dieting regime and beauty tips.
Vanna's book is very interesting for a variety of reasons, but it can especially be appreciated as the tale of a South Carolina native making it big but never losing sight of where she came from.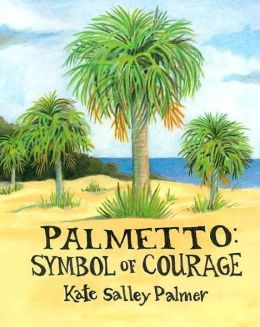 by Taylor Cheney
Kate Salley Palmer's whimsical Palmetto: Symbol of Courage shares a simplified story of the Battle of Fort Moultrie (formerlly Fort Sullivan) while playfully explaining the significance of the Palmetto Tree which is deeply rooted in South Carolina history.
Dedicated to the young students of South Carolina, the short piece creates a timeline starting at 1776 with the attempted attack on the state by British troops and ends with the signing of the Declaration of Independence. Each page contains an acrylic remake of the battle, complete with blue and red clad soldiers, including all the heavy hitters such as General Charles Lee and Colonel Moultrie, larger-than-life white sails, and the periwinkle tones of the Atlantic Ocean off the coast of Sullivan's Island. The playful typeface is reminiscent of handwriting on a chalkboard, adds to the naivety of the intended audience. Published in 2005, all illustrations and text were hand drawn by the reader herself.
Yet, what is most impressive of Palmer's story is how understandable she makes the Civil War and the Battle of Fort Moultrie, two incredibly prominent events in U.S. history, to a young reader. Gone are the stoic images of past Generals, with stuffy looking outfits and over-the-top whigs that faintly resemble the reader's grandparents. There's no confusing maps, or pages of long, intimidating text. While Palmetto should not be considered a primary text in teaching a student about early South Carolina origins because it does leave out some significant details and moves quickly, such as immediately jumping into the adoption of the Declaration of Independence, the book is an acceptable starting point to get young children interested about how their country started.
In addition, it also provides an example for children to not give up on what they believe. For example, if it were not for Colonel Moultrie's belief in building the fort out of Palmetto trees, even though many others were against the idea, the original colonies would have possibly been speaking very different accents. What readers can take away from this book is that they can be capable of anything, as long as they believe in their idea. They just won't have a brigade of British troops firing at them. Hopefully.

Reading and success are inextricably linked. Those who read well and widely throughout their lifetimes are much more likely to achieve success and satisfaction in life. Our nation was founded on the written word, and reading is fundamental to maintaining our dynamic democracy.
The Library of Congress Literacy Awards is a new program that will recognize and support individuals and institutions in the United States and abroad that have made significant contributions to combating illiteracy and aliteracy (having the ability to read but simply not exercising the skill).
The literacy awards program is administered by the Library's Center for the Book. Final selection of prize winners will be made by the Librarian of Congress, who will solicit recommendations from literacy experts on an Advisory Board.
The Library of Congress Literacy Awards program is made possible through the generosity of David M. Rubenstein, a major donor to Library of Congress programs, including its annual National Book Festival.
Read the press release about the Library of Congress Literacy Awards.
Beginning in 2013, three prizes will be awarded annually:
The David M. Rubenstein Prize ($150,000), for a groundbreaking contribution to the sustained advancement of literacy by any individual or entity worldwide
 The American Prize ($50,000), for a project developed and implemented during the past decade with special emphasis on combating aliteracy
The International Prize ($50,000), for the work of an individual, nation or nongovernmental organization working in a specific country or region
Criteria for selection:
innovation
replicability
sustainability
measurable impact
demonstrated reliance on existing professional literature and applied practice
Who will be considered?
Individuals, institutions and organizations that are working to reduce illiteracy or aliteracy.
Individuals might include, but are not limited to:
Educators
Librarians
School media/technology specialists
Community leaders
Institutions, Nongovernmental and Nonprofit Organizations might include:
Libraries
Schools
Nonprofit or nongovernmental organizations such as literacy groups, museums, community-based programs, school or library organizations, foundations
How many award categories may be selected?
Individuals may apply or nominate in more than one award category, if appropriate. A separate application must be submitted for each award you apply for.
What do we want to know?
If you are nominating yourself, your organization, another individual or another organization for an award in recognition of groundbreaking, innovative and highly successful work in the field of literacy, describe:
the program or project in general
the specific elements of the program or project that address the criteria outlined above
the methods used to measure impact/success
the difference the program or project is making (provide quantifiable information)
Please note that we are especially interested in programs that are highly innovative and could be replicated by others.
Deadline:
All applications must be complete and received by midnight (in Washington, D.C.), April 15, 2013. You will receive an email confirmation that your application has been received.
Questions:
Please send all completed applications and inquiries to literacyawards@loc.gov