Browsing articles in "Book Blog"
By Kim Henderson, Center for the Book Intern
Summary: No matter how hard she tries, Ellen Burns will never be Scarlett O'Hara. As a little girl in South Carolina, she prefers playing Tarzan to playing Jane. As a teenage beauty queen she spikes her Cokes with spirits of ammonia and baffles her elders with her Freedom Riding sympathies. As a young woman in the 1960s and '70s, she hypnotizes her way to Harvard, finds herself as a lesbian, then very nearly loses herself to booze and shamans. And though the wry, rebellious, and vision-haunted heroine of this exhilarating novel may sometimes seem to be living a magnolia-scented Portrait of the Artist as a Young Woman, Blanche McCrary Boyd's The Revolution Of Little Girls is a completely original arid captivating work.
Review: The Revolution of Little Girls is an interesting adventure. It follows Ellen as she grows into herself and tries to understand the kind of person she is. The book has some issues with flow, depending on how you prefer to read. There is a brief run through Ellen's life, from childhood to adulthood, and then it starts back over again. It is nice to see how Ellen's life differs from childhood to adulthood. She is a fascinating person who deals with many common experiences. It can be pretty easy to relate to her. A person who prefers straight continuity in a character's life might not enjoy it so much. Some might have issues with the language or other content, but The Revolution of Little Girls is worth a look.
By Kim Henderson, Center for the Book Intern
Summary: Heaven Beach, South Carolina, is anything but, if you live at the low-rent end of town. All her life, Leah Jones has been the grown-up in her family, while her mother moves from boyfriend to boyfriend, letting any available money slip out of her hands. At school, they may diss Leah as trash, but she's the one who negotiates with the landlord when the rent's not paid. At fourteen, she's the one who gets a job at the nearby airstrip.
But there's one way Leah can escape reality. Saving every penny she can, she begs quiet Mr. Hall, who runs an aerial banner-advertising business at the airstrip and also offers flight lessons, to take her up just once. Leaving the trailer park far beneath her and swooping out over the sea is a rush greater than anything she's ever experienced, and when Mr. Hall offers to give her cut-rate flight lessons, she feels ready to touch the sky.
By the time she's a high school senior, Leah has become a good enough pilot that Mr. Hall offers her a job flying a banner plane. It seems like a dream come true . . . but turns out to be just as fleeting as any dream. Mr. Hall dies suddenly, leaving everything he owned in the hands of his teenage sons: golden boy Alec and adrenaline junkie Grayson. And they're determined to keep the banner planes flying.
Though Leah has crushed on Grayson for years, she's leery of getting involved in what now seems like a doomed business—until Grayson betrays her by digging up her most damning secret. Holding it over her head, he forces her to fly for secret reasons of his own, reasons involving Alec. Now Leah finds herself drawn into a battle between brothers—and the consequences could be deadly.
Review: Such a Rush by Jennifer Echols is a quirky, cute, contemporary novel. The story follows Leah as she learns how to fly planes. She has a wonderful father/daughter relationship with Mr. Hall, her teacher, but things get complicated when she develops feelings for his two boys, Grayson and Alec. Even though the story focuses on planes, it isn't difficult to follow the parts when Leah is learning about flight. It gets really intriguing when Leah realizes the boys have different plans for their father's flying business. Overall, this was an excellent story. All of the characters were lovable in their own way. This book has something for everyone, and is absolutely worth picking up.
By Kim Henderson, SC State Library Intern
Synopsis: Set in South Carolina in 1964, The Secret Life of Bees tells the story of Lily Owens, whose life has been shaped around the blurred memory of the afternoon her mother was killed. When Lily's fierce-hearted black "stand-in mother," Rosaleen, insults three of the deepest racists in town, Lily decides to spring them both free. They escape to Tiburon, South Carolina–a town that holds the secret to her mother's past. Taken in by an eccentric trio of black beekeeping sisters, Lily is introduced to their mesmerizing world of bees and honey, and the Black Madonna. This is a remarkable novel about divine female power, a story women will share and pass on to their daughters for years to come.
Review: The Secret Life of Bees is a very popular book, and it certainly deserves it. It is rich in emotion and character. It is told from Lily, a fourteen-year-old girl, but she is more thoughtful than most children her age. It has the perfect balance of humorous scenes and more serious ones. Lily's relationship with Rosaleen was the highlight of The Secret Life of Bees. It has all of the tenderness of a mother-daughter relationship, but it added much conflict because of their racial differences. Rosaleen was a fun character to read, and probably my favorite. She is headstrong and she will not let people tear her down. The sisters add more elements of humor and darkness to the story. Each one is unique and interesting, but they also come with pasts. The Secret Life of Bees does a wonderful job of using these women to show how others can rise above what they have been put through. It's a powerful message for most. The Secret Life of Bees is a book worth picking up for the characters as well as the story. There is a bit of swearing and some racial slurs in this book. If you can handle that kind of language, then definitely check it out.
By SC State Library intern, Andre Perez
In the story of "A Grotesque Legend of Old Charleston" by John Bennett there were parts of the story that could have many interpretations. There is a lot of color comparison in this book. In the story there is a mother that goes by the name of Madame Margot, who has a daughter named Gabriella. When being described in the story the mother is compared to her daughter. When describing the mother there are uses of dusk, peach and clay. Margot is from San Domingo and is described by using the words: orange-tawny, golden-russet, golden beauty, and Japonica-color. When describing the daughter there is porcelain, ebony hair, and ivory loveliness.
Madame Margot loved her daughter very much, but with that a fear was born. Gabriella was a beautiful girl and was very innocent of the way of life. Her mother feared that her beauty would cause her pain. Margot seems to want to do anything to protect her daughter from harm or any trouble.
In the introduction by Harlan Green, John Bennett's life in South Carolina is told. Mr. Green goes into how Bennett moved here from New York, and married one of the natives of Charleston. He also talks about the reaction that the "A Grotesque Legend of Old Charleston" had on the upper class ladies in the presentation that he went to. He was shunned by society because they were insulted by his story. Mr. Green also comments that during the Civil War, Mr. Bennett was one of the only members of the upper-class white community that the blacks would negotiate with.
In the last part of the book, Mr. Bennett talks about his research for the legend. He talks about the location of the shop owned by Margot and her home. He could not find them, but described other places that were talked about in the story that are real places in Charleston. This legend is a true legend from Charleston.
By Abby Davis
In Forgotten Tales of South Carolina, Sherman Carmichael presents over one hundred bizarre stories that have taken place in South Carolina throughout the past few centuries. These quirky tales include UFO sightings, sonic booms, flying snakes, water monsters, strange lights, flying cows, headless ghosts forever searching for their heads, ghost brides in blood-spattered wedding dresses searching for their lovers, natural disasters, pirates, phantom hitchhikers, witches, and many more equally strange occurrences.
Carmichael, a native South Carolinian from Johnsonville, presents these already intriguing stories with an inquisitive enthusiasm that ignites the same curiosity in his audience. He says in the prologue, "South Carolina is rich in history, and along with history come mysteries and legends. Whether these stories are true or just campfire tales, they still hold our attention." The tremendous story telling is accompanied by the humorous illustrations of Kyle McQueen. The artwork is very silly and manages to make the book an even more enjoyable reading experience.
Forgotten Tales shares an incredible amount of South Carolina history, much of which could not be found in classroom textbooks. Carmichael takes the reader on a journey outside of the box, providing a brilliant collection of stories that are both entertaining and educational. The book also gives exact locations and times for when and where various ghosts, bizarre lights, and more are said to appear throughout the state. Anyone that is intrigued by mystery or yearning to know more offbeat South Carolina history should certainly indulge in this quirky and enjoyable read.
By Abby Davis
Vanna White became a household name for her looks, beautiful outfits, and impeccable letter turning capabilities.  However, after reading Vanna Speaks, it is clear that there is a lot more to this woman than what meets the eye while watching Wheel of Fortune.  Vanna grew up in North Myrtle Beach, and it is made evident throughout her book that she cherished her childhood there, and that she still considers it home.
Much of the book is spent illustrating her life in Los Angeles and her struggle to break into show business. The audience quickly learns that it was an arduous path filled with lots of small modeling jobs accompanied by waitressing jobs to pay the bills.  She was not simply cast as the hostess of Wheel of Fortune out of the blue as if it were a fairytale—and this is a point she seems to emphasize throughout the book.  Although she did ultimately have her dream come true, she had to work for it.
While she does tell of her glamorous lifestyle in Hollywood, much of the book actually takes place in North Myrtle Beach.  She writes about her junior high crushes and high school sweethearts, the diners that she worked at in the summers, the Sun Fun Festival that she competed in but never won, and much more.  Vanna makes it clear that North Myrtle Beach has always been very good to her.  The town even did a huge special release of her first film, Graduation Day, which included her name up on the marquee, and the newspaper proudly writing of their local movie star returning home.
Vanna does not hold back in this book at all, she shares very intimate stories from details of relationships and mistakes she has made to her mother's heartbreaking struggle with cancer and the tragic death of her serious boyfriend.  She also shares answers to lots of frequent questions from fan mail, details regarding Wheel of Fortune, and her own personal dieting regime and beauty tips.
Vanna's book is very interesting for a variety of reasons, but it can especially be appreciated as the tale of a South Carolina native making it big but never losing sight of where she came from.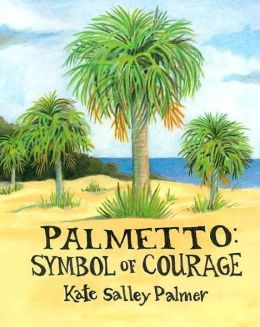 by Taylor Cheney
Kate Salley Palmer's whimsical Palmetto: Symbol of Courage shares a simplified story of the Battle of Fort Moultrie (formerlly Fort Sullivan) while playfully explaining the significance of the Palmetto Tree which is deeply rooted in South Carolina history.
Dedicated to the young students of South Carolina, the short piece creates a timeline starting at 1776 with the attempted attack on the state by British troops and ends with the signing of the Declaration of Independence. Each page contains an acrylic remake of the battle, complete with blue and red clad soldiers, including all the heavy hitters such as General Charles Lee and Colonel Moultrie, larger-than-life white sails, and the periwinkle tones of the Atlantic Ocean off the coast of Sullivan's Island. The playful typeface is reminiscent of handwriting on a chalkboard, adds to the naivety of the intended audience. Published in 2005, all illustrations and text were hand drawn by the reader herself.
Yet, what is most impressive of Palmer's story is how understandable she makes the Civil War and the Battle of Fort Moultrie, two incredibly prominent events in U.S. history, to a young reader. Gone are the stoic images of past Generals, with stuffy looking outfits and over-the-top whigs that faintly resemble the reader's grandparents. There's no confusing maps, or pages of long, intimidating text. While Palmetto should not be considered a primary text in teaching a student about early South Carolina origins because it does leave out some significant details and moves quickly, such as immediately jumping into the adoption of the Declaration of Independence, the book is an acceptable starting point to get young children interested about how their country started.
In addition, it also provides an example for children to not give up on what they believe. For example, if it were not for Colonel Moultrie's belief in building the fort out of Palmetto trees, even though many others were against the idea, the original colonies would have possibly been speaking very different accents. What readers can take away from this book is that they can be capable of anything, as long as they believe in their idea. They just won't have a brigade of British troops firing at them. Hopefully.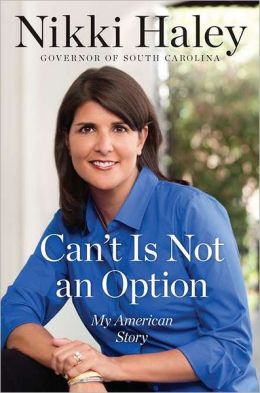 By Abby Davis
"When the daughter of Indian immigrants, who grew up in a small rural town in the segregated South, can become the first female and minority governor of her state and the youngest governor in the nation, then it's clear that the American Dream still exists."  This inspiring quote is one of Nikki Haley's final comments in her autobiography published last April, Can't Is Not an Option: My American Story.

Her story begins with her parents immigrating to North America and ultimately moving to the small town of Bamberg, South Carolina where she was born.  They were the only Indian family there and she explains that they faced many initial hardships when neither side of a segregated town would accept them, since they were neither white nor black.  Her story miraculously ends, however, with her describing her first 250 days as governor of this very same state.
Through her detailed accounts of all the unbelievable obstacles she encountered on her path to the governor's mansion, it becomes clear the only way she got there was by truly letting can't never be an option.  She spends plenty of time illustrating the policies and practices she believes in—which revolve around "limited, responsible, transparent government"—and we see the truth of these statements reflected through her work in the House and now as governor.
This book also, however, allows the audience to see not just Nikki Haley, Governor of South Carolina—but to see and understand Nikki.  She reveals Nikki the grateful boss; Nikki who got giddy about meeting Sarah Palin; Nikki who likes to "get excited"; Nikki who celebrates with the Black Eyed Peas' hit "I Gotta Feeling"; Nikki the caring mother; Nikki the loving wife; and Nikki who cares deeply about all South Carolinians.
Whether you support her political "Movement" or not, this book shares an incredible story that all South Carolinians can be proud of.  She frequently describes how incredibly proud she is of the progress that South Carolina has made and continues to make in overcoming bigoted, antiquated ideals of the past.  Nikki Haley herself is proof of the progress and her book does not just tell her triumphant story, but also tells a story of triumph for all of South Carolina.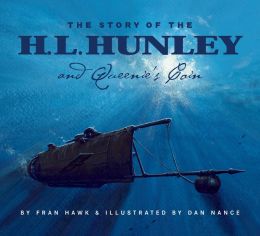 By Abby Davis
The Story of the H.L. Hunley and Queenie's Coin by Fran Hawk explores the mystery surrounding the first submarine to ever sink an enemy warship as well as George Dixon's lucky gold coin gifted to him by his love, Queenie Bennett.  The book closely follows the creation of the H.L. Hunley, its first tragic voyages, its mysterious disappearance, and ends with the long awaited resurrection of the submarine in August 2000.  The resurfacing of the Hunley is depicted as a joyful day in which 20,000 people at the Charleston Harbor welcomed the submarine back from the depths of the ocean where it was hidden for 136 years.
While the story mostly shares the mysteries of the Hunley, Dixon's lucky gold coin from Queenie is an important feature as well.  The coin had proven to be very lucky at the Battle of Shiloh where it saved Dixon's leg and ultimately his life.   The coin was in fact discovered in the excavation of the Hunley right where Lt. Dixon would have been sitting, but unfortunately it had not been lucky enough to save the Hunley and it's crew.
The story itself is riveting and educational, but the charm of this book lies in the beautiful illustrations by Dan Nance.  Nance is a noted Civil War artist and some of his works can be seen at the South Carolina State Museum.
By Abby Davis
"Once upon a time…happily ever after" fairytale romances rarely occur in real life.  There are always complications; life is not perfect.  She's Gone seems to be driving these points home.  This novel starts out seeming like perhaps the main characters, Kofi and Keisha, will fall in love and everything will go perfectly.  After delving a bit farther into the book, however, the audience realizes that this will not at all be the case.  Their romance, which seems to be a parallel for life as a whole, is tumultuous and wrought with deceit, heartache, miscommunication, and tragedy.
This absurd love story is far from typical, and so is the writing style. The author, Kwame Dawes, tells this cross-cultural romance beautifully.  His words leap from the page to form images of both South Carolina and Jamaica, the two main settings of the novel.  His sentences mesh together rhythmically and some passages read like song lyrics.  It is no surprise that Dawes also writes poetry and was Distinguished Poet in Residence at the University of South Carolina where he taught from 1992-2012.
Dawes lived in Ghana, Jamaica, and South Carolina and all three of these places are featured in his novel.  The story includes some background in Ghana, but primarily takes place in Jamaica and South Carolina.  Kofi and Keisha meet in Columbia, South Carolina where Keisha was working for the University of South Carolina.  Their romance later takes them to Jamaica where Dawes brilliantly captures the Jamaican dialect in his writing as well as the nation's vibrant culture.
Differences between cultures, skin colors, and countries are a central topic in the novel and South Carolina and Jamaica are often compared and contrasted.  Some of these differences prove to be part of the many problems with Kofi and Keisha's relationship. Their romance is far from perfect; Dawes presents many harsh truths of the world and the story can be very heavy, intense, and vulgar.  His magical writing and the incredible insight he provides into different cultures, however, make it well worth the read.