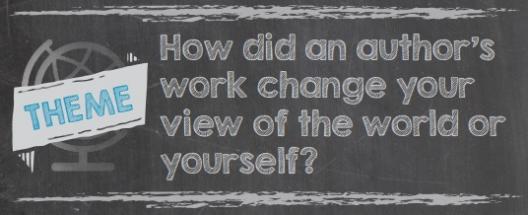 Each year the Center for the Book at the Library of Congress in partnership with affiliate state centers for the book, invites readers in grades 4 through 12 to enter Letters About Literature, a national reading-writing contest. To enter, readers write a personal letter to an author, living or dead, from any genre – fiction or nonfiction, contemporary or classic, explaining how that author's work changed the student's way of thinking about the world or themselves. There are three competition levels: Level I for children in grades 4 through 6; Level II for grades 7 and 8, and Level III, grades 9 – 12.
Information for Students and Teachers
Deadlines: Submissions from Grades 9-12 must be postmarked by December 2, 2016. Submissions from Grades 4-8 must be postmarked by January 8, 2017.
If you are in grades 4-12, you are eligible to enter the Letters About Literature reading and writing contest. You do not have to enter through a class. You can enter on your own. Here are the Guidelines and Entry Coupon.
The Letters About Literature Teaching Guide provides activities teachers can use to guide their students through the book discussion and letter-writing process. The guide addresses the LAL teaching strategies and ways in which the program can dovetail with curriculum for teaching reading and writing. Also included are worksheets for duplication and assessment checklists.
State winners receive cash prizes provided by the South Carolina State Library Foundation.
Find out more about the program and how your school or individual child can get involved. You can also view photos from the 2015-2016 awards ceremony on our Flickr account.
2016-2017 Winners

Level I
1st Place              Emma Tiberian: Thomas Cario Middle School, Mt. Pleasant, SC - $100
2nd Place             Meenakshi Balchandran: Calvary Christian School, Myrtle Beach, SC - $50
3rd Place              Dylan Sampson: Hilton Head Christian Academy, Hilton Head, SC - $25
Level II
1st Place              Emily Yi: Sterling School, Greenville, SC - $100
2nd Place             Charles Sanderson: Sterling School, Greenville, SC - $50
3rd Place              Emmalyne Eshleman: Sterling School, Greenville, SC - $25           
Level III               
1st Place              Madeline Wilder: Richard Winn Academy, Winnsboro, SC - $100
2nd Place             Savannah Hall: North Charleston, SC - $50
3rd Place              Elizabeth Smolenski: Myrtle Beach, SC - $25